IT IS A GREAT CAREER, YOU CAN OPERATE ONE OF MR PRONTO'S OUTLET INDEPENDENTLY
Eligibility:
It is open to candidates with the following background,
1. Central Footwear Technology/CLRI/
any recognized footwear courses offered by NIFT
or by any other recognized institutions.
2. Any hands on person with 10th standard passed/ or drop out
(Will have to go through Mr Pronto's trainning programme)
Training will encompass
Shoe Repair
Handbag Repair
Key Duplication
Retail Management and Mr Pronto Systems.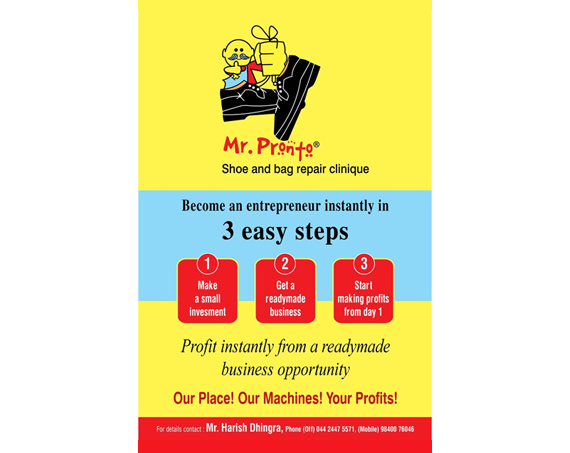 Nature of Training: On the Job and class room Training.
Training Period will range from,
4/6 weeks to 12/16 weeks intensive training depending upon the candidate.
Investment
The investment will be in terms of Refundable Security Deposit and will depend on city and location Required Material cost.
If required Mr Pronto will help you in getting loan from one of the banks.
Locations
Chennai, Bangalore, Ahmedabad, Delhi and soon in other parts of India.
Download franchisee form here: